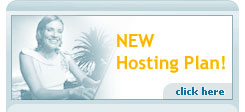 01.02.2009
Several additional servers go online to meet the ever-growing demand of WebServicesBilling.com's discount web hosting packages.


06.15.2008
Fifteen additional servers go online to satisfy the demand of our discount web hosting packages.


07.15.2005
An affiliate program is now available. The affiliate program pays 15% reoccurring commission on all discount web hosting sales for as long as the referral remains a client. Special discount web hosting packages are available to affiliates and their visitors. Click here to become a Hosting.MyMarkdown.com Affiliate.




Affiliate Campaign Images

Banners you may use in your affiliate campaigns are located below. New banners will be added periodically. You may also use your own banners.

Please do not hotlink the images. The URL and images will change often resulting in broken pictures on your site. Please upload the images to your site and use them from there.



Banners & Buttons

If the images below do not appear, please disable your internet security software and click refresh or configure your internet security software to allow referral information to be sent from your computer.






File Size: 24.0 KB
Size: 468 x 60 Pixels
Download: banner1.rar