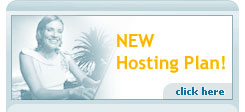 01.02.2009
Several additional servers go online to meet the ever-growing demand of WebServicesBilling.com's discount web hosting packages.


06.15.2008
Fifteen additional servers go online to satisfy the demand of our discount web hosting packages.


07.15.2005
An affiliate program is now available. The affiliate program pays 15% reoccurring commission on all discount web hosting sales for as long as the referral remains a client. Special discount web hosting packages are available to affiliates and their visitors. Click here to become a Hosting.MyMarkdown.com Affiliate.




Hosting.MyMarkdown.com Affiliate Program
Affiliate Program Overview
15% reoccurring commission per sale.
6 month cookie duration. After the first referral to our site, if the visitor purchases additional packages within 6 months, you will obtain a commission for this as well.
Special packages are available for sale by authorized affiliates.
There is no risk, just the opportunity for extra income.


Create An Affiliate Account